Robert Half – Trends, Standards in Finance and Accounting
---
Report Finds Finance Function Costs Increasing as Talent Shortages Intensify
Survey From Robert Half, FEI Examines Trends, Standards in Finance and Accounting.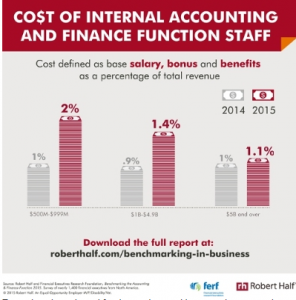 CNW Newswire:
MENLO PARK, Calif., and MORRISTOWN, N.J., June 5, 2015 /CNW/ — Costs associated with the finance function are rising for many firms, according to a new survey of executives from finance and accounting departments at public and private companies in North America. The research found that at companies with revenues between $500 million and $999 million, the cost of the finance function as a percentage of revenue rose from 1 percent in 2014 to 2 percent in 2015. At companies with $1 billion to $4.9 billion in revenues, median costs grew to 1.4 percent from 0.9 percent in 2014.
Read further:
http://www.newswire.ca/en/story/1550475/survey-from-robert-half-fei-examines-trends-standards-in-finance-and-accounting
Visit TheGAAP.net daily to be kept up to date on accounting information, trends and changes.
Visit also for your CPD needs:
http://thegaap.net/professionaldevelopment/
Thank you for making TheGAAP.net your source for keeping up to date on Accounting.