Want to Inspire Innovation at Work? Here Are 5 Ways
---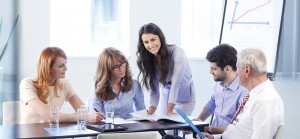 Savvy businesses are always looking for ways to inspire innovation at work. Good leaders know that success comes from unconventional thinking and visionary ideas. And creativity is not just for computer companies, artists or ad agencies. In accounting and finance jobs, novel approaches can streamline operations and improve the bottom line. What's more, when employees feel that management listens to their ideas and implements their plans, morale improves and retention rates go up.
How can you inspire innovation at work in your team? Here are five ways.
Revamp the corporate culture
In a recent Robert Half survey, more than a third (35 per cent) of interviewed CFOs said a lack of new ideas is the greatest hindrance to innovation in their organizations. This response ranked first — higher than dealing with bureaucracy (24 per cent) and being bogged down by daily tasks (20 per cent).
You can start to turn things around by holding regular brainstorming sessions to generate fresh ideas, but that's only one part of the solution. You also have to act on those ideas while they're hot and the team's energy level is high. The shorter the lag time between proposal and action, the more your staff is encouraged to think big.
The third leg of inspiring creativity at work is to not punish failure. No plan works 100 percent of the time. When you dress down, demote or fire someone for a fizzled plan that management approved and implemented, you're sending the message that employees are safer keeping their heads down, mouths closed and ideas to themselves.
Emphasize collaboration
There's more than just power in numbers; there is also innovation. That's why crowdsourcing has taken off as one of the biggest trends of the year, if not the past decade, according to two separate reports from Accenture and Deloitte. And the wisdom of the crowd is not just for writing online encyclopedia entries or finding the best pizza parlors. It's also starting to have an impact on governments and large corporations, according to the two consulting firms.
Team brainstorming is certainly one way to crowdsource, but don't stop there. Open it up to the entire company. Good ideas can come from any employee, and those who aren't engaged in accounting can often see problems from a different perspective. To truly encourage innovation at work, make idea generation a collaborative process. Instead of dropping suggestions in a locked box, put up a large whiteboard or bulletin board in a public place, and encourage all staff to contribute ideas and build on the ideas of others.
Remove yourself
No matter how you view yourself and your relationship with your team, you're still the boss, and your direct reports may be hesitant to speak up around management. By taking a more peripheral position during brainstorming sessions, you may get more interesting and diverse suggestions. In practice, this may mean taking on the role of a facilitator, encourager or note taker rather than full participant.
Be a role model
Regular time off does wonders for boosting productivity and creativity at work, so take the lead and model what a proper work-life balance looks like. Some suggestions:
Leave the office at a decent hour, and don't expect staff to stay late or work on weekends unless a big deadline looms.
Don't make a habit of sending or responding to late-night emails.
Use your vacation days instead of rolling them over or losing them.
Take weeklong holidays instead of just a series of three-day weekends, which may not be enough to recharge your mental batteries.
Avoid red-tape rash
The same survey mentioned above found bureaucracy to be the second-greatest inhibitor of innovation at work. It's dispiriting for any team to conceive and lovingly craft a brilliant idea, only to have upper management shoot it down. As their manager, you can help by identifying any potential land mines early on so you and your team can work around them. Also be your employees' greatest advocate. If you believe in an idea, take it upon yourself to push it through and make it happen.Innovation at work is like a seed. With the right environment and proper nurturing, it can grow, thrive and give rise to more great ideas. Otherwise the seedling will soon wither and die. Be the gardener of creativity in your department.
This article is provided courtesy of Accountemps. Accountemps, a Robert Half company, is the world's first and largest specialized staffing firm for temporary accounting, finance and bookkeeping professionals. The staffing firm has 345 locations worldwide. Follow Accountemps at twitter.com/RobertHalf_CAN or visit the Accountemps blog for workplace news